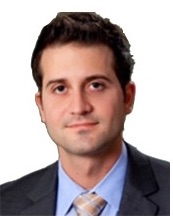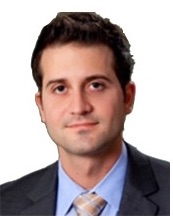 Dr. Borges obtained his degree in Dental Medicine at Nova Southeastern University in Fort Lauderdale, Florida. He graduated with honors and was presented with an award in "Outstanding Achievements and Performance in Oral and Maxillofacial Surgery" by the American Association of Oral and Maxillofacial Surgery. He was also awarded membership to Omicron Kappa Upsilon Honor Dental Society, a prestigious and nationally recognized organization which rewards excellence in scholarship and exemplary traits of character.
His interest in medicine and surgery led Dr. Borges to the pursuit of additional training in Oral and Maxillofacial Surgery. He completed his residency training at Nova Southeastern University in south Florida, where he developed a special interest in dentoalveolar surgery, implant reconstruction, orthognathic surgery and facial trauma. With hospital affiliations in Broward Health Medical Center and Memorial Regional Hospital, both level I trauma centers, Dr. Borges has participated in numerous advanced facial reconstruction cases and was chief of a busy head and neck cancer service, offering a wide array of treatment options to patients with head and neck malignancies. He received extensive training in the diagnosis and management of oral cancer with exposure to microvascular free flap reconstruction. As coordinator of a multidisciplinary dentofacial anomalies team, Dr. Borges has played a key role in the surgical management of patients with anomalies of jaw relations and has performed numerous jaw rearrangement surgeries.
Committed to education and patient care, Dr. Borges has published several articles in numerous scientific journals, as well as a book chapter in Oral and Maxillofacial Clinics of North America with the goal of optimizing awareness and providing the best treatment possible for patients. As a clinical instructor in local anesthesia administration and adjunctive anesthetic techniques, Dr. Borges has mastered the skills of local anesthesia administration and deep sedation, providing a more comfortable environment and a more pleasant experience for his patients. He believes that it is the duty of every surgeon to maintain updated knowledge as technological advances modify the practice of medicine, and maintains adjunct faculty position in the Department of Oral and Maxillofacial Surgery at Nova Southeastern University and the Department of Pediatric Dentistry in Nicklaus Children's Hospital.
Treating each patient with the highest levels of respect and consideration, Dr. Borges continues to expand his scope of practice as a life-long student, and strives to excel in every aspect of patient care, dedicating as much time as necessary to address all of his patients' concerns and ensuring that each patient's experience is as pleasant as possible. With his extensive training, numerous accomplishments and dedication to his profession, Dr. Borges continues to provide an excellent service to the community as a board certified oral and maxillofacial surgeon.
Education
Florida International University –Major in Biology
Nova Southeastern University –Doctorate in Dental Medicine
Nova Southeastern University/Broward General Medical Center-Oral and Maxillofacial Surgery Residency
Academic Affiliations
Nova Southeastern University- Department of Oral and Maxillofacial Surgery
Miami Children's Hospital- Department of Pediatric Dentistry
Hospital Affiliations
American College of Oral and Maxillofacial Surgeons
American Association of Oral and Maxillofacial Surgeons
Florida Society of Oral and Maxillofacial Surgeons
Oral and Maxillofacial Surgery Foundation
American Dental Association
Omicron Kappa Upsilon Dental Honor Society
Golden Key International Honor Society
National Society of Collegiate Scholars
Organizations
Reviewer "American Journal of Oral and Maxillofacial Surgery"
Publications and Presentations
11/2013 Oral Abstract Presentation- Florida Society of Oral and Maxillofacial Surgeons. Simultaneous Multifocal Metastatic Disease of the Head and Neck: Large Metastatic Polymorphous Low Grade Adenocarcinoma and Squamous Cell Carcinoma. Orlando, FL
08/2013 Kaltman, S. I., Ragan, M., Borges, O. Managing the Untoward Anesthetic Event in an Oral and Maxillofacial Surgery Practice. Oral and Maxillofacial Surgery Clinics, 2013-08-01, Volume 25, Issue 3, 515-527
06/2013 Oral Presentation- Maxillofacial Trauma: Treatment Basics and Technological Advances. Broward General Medical Center Trauma Grand Rounds. Fort Lauderdale, FL
04/2013 Oral Abstract Presentation – ACOMS Annual Scientific Conference and Exhibition – Scottsdale, AZ
04/2013 Borges, O., Jakubowski, J., McClure, S.A. (2013). Postoperative High Dose Rate Interstitial Brachytherapy for Treatment of Recurrent Keloids. Oral Surgery Oral Medicine Oral Pathology Oral Radiology. Abstract in print
04/2013 Poster Presentation – Virtual rounding via videoconference-enabled smartphones: a case for multifacility rounds. Broward General Medical Center – Fort Lauderdale, FL
11/2012 Oral Abstract Presentation – ACOMS Resident Research Meeting. Philadelphia, PA
11/2012 Borges, O., Movahed, R., Kaltman, S.I., Katz, R.L. (2013). Facial Feminization Surgery: Case Report- Utilizing Computer Assisted Surgical Simulation and a Novel Technique for Cranioplasty. Oral Surgery, Oral Medicine, Oral Pathology, Oral Radiology Vol. 115, Issue 6, Page e4
05/2012 Poster Presentation- Intraosseous Neurothekeoma of the Mandible: A Rare Occurrence. Broward General Medical Center – Fort Lauderdale, FL
04/2012 Kaltman J. M., Best S. P., Movahed R., Borges O., Kaltman S. I. Bilateral Condylar Intrusion Into the Middle Cranial Fossa: Case Report and Review of the Literature. Journal of Maxillofacial Trauma. 2012 April;1(1):30-5